WHICH BACKPACK IS RIGHT FOR YOU?
Find the best backpack to meet your needs and match your style.
Deciding on the best Gossamer Gear ultralight backpack for your time outdoors can be a tough decision. When purchasing a new pack, think about the types of trips you will be taking. Whether it's high mileage multi-day trips, weekend warrior style outings, or a pack for day hiking, you will need an ultralight backpack that can adequately hold your gear with the key features that match your style of hiking. Choose between packs like the award-winning high volume Mariposa, the fan favorite Gorilla, or the ultralighter's dream: the Kumo, by learning the elements of each pack and key features that set them apart. After taking a look at the different packs and their feature sets below, you will know which pack is right for you.
Just beginning? Learn how to start lightweight backpacking!
The Mariposa 60 Backpack is the perfect option for anyone transitioning to ultralight backpacking. It has a capacity of 60 liters and can swallow all the gear you need including a bear canister. This pack has 7 external pockets that offer a wide range of storage solutions including an external tent sleeve, large mesh pocket for wet clothing, and roomy hip belt pockets for your phone or snacks. The Mariposa is made of a durable custom Robic fabric for those who are tough on their gear. This large volume pack is also an option for winter hikers who have more gear to carry on those sub zero nights, as well as family campers when you need to carry extra stuff for the kids. The Mariposa does best with weights under 30 pounds, but can handle up to 35 pounds just fine.
A medium sized pack with medium hip belt weighs just 30.5 ounces (under 2 pounds!)
Unisex ergonomic shoulder straps and hip belts with ample padding for optimal comfort
Three pack sizes: Small, Medium, and Large, which accommodate torso lengths of 11.5″ to 23.5″
Three hip belt sizes which accommodate waist circumferences of 24" to 50"
Features an internal frame which connects to the hip belt for maximum weight transfer
"I was a little nervous about ditching my bigger (heavier) name-brand pack for this one. I took the Mariposa out on a few overnighters to get a feel for it and experiment with loading-it all worked well! It held everything I needed and organization was easy. Then I took it out for three weeks on the John Muir Trail…WOW! The heaviest the pack ever was, with seven days of food and one liter of water, was 30 pounds. Even at this weight the suspension system kept me comfortable on the rocks and over passes. And it only got better as the pack got lighter. I passed many PCTers with Mariposa packs (of all generations) and they all had great things to say about it too. It's a little dirtier now but it held up great. Thanks." -John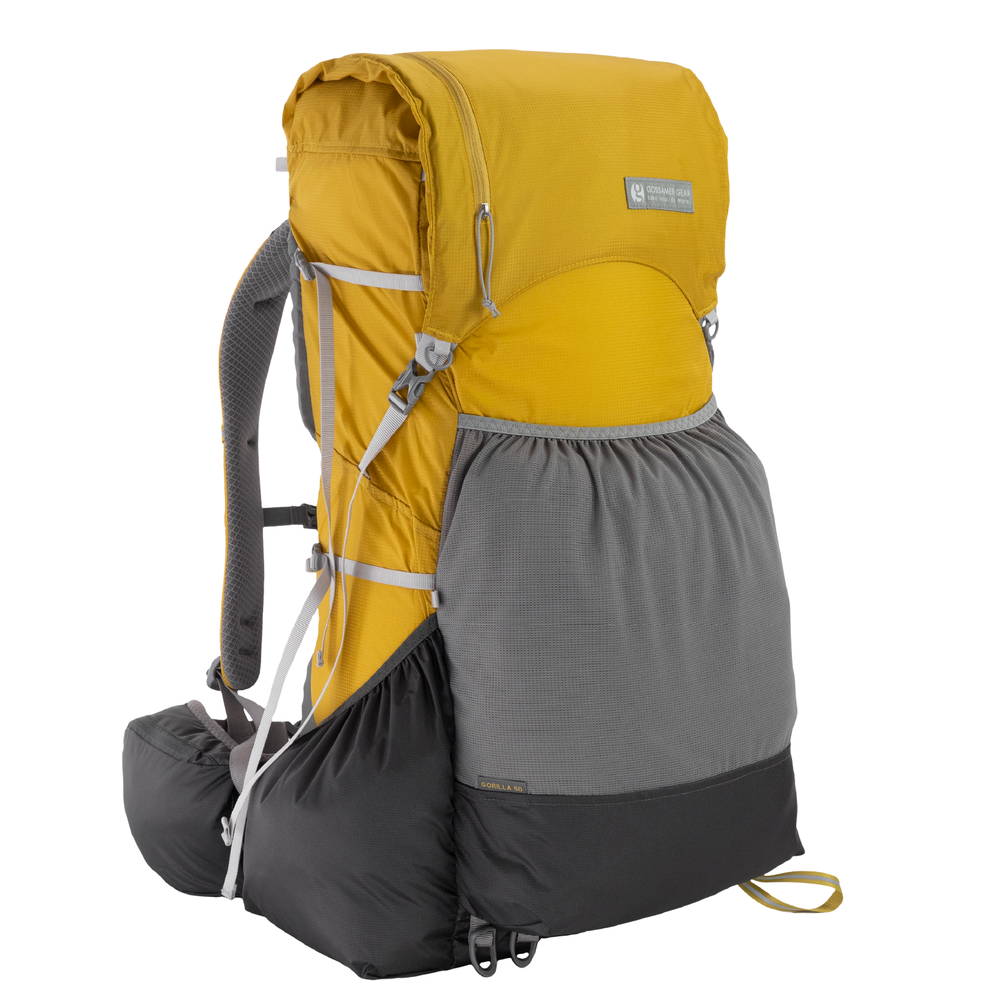 The Gorilla 50 Ultralight Backpack has many of the same great features as the Mariposa, but has some very significant differences. The Gorilla Ultralight Backpack is a versatile mid-size pack ideal for 2-7 day adventures for someone that has already transitioned to an ultralight setup. It is configured to keep all your large gear items inside the main pocket allowing for a really comfortable carry. A size medium has a total volume of 50 liters and the webbing straps can be used to compress your pack when not carrying a full load. Winner of Outdoor Gear Lab's Editor's Choice award for best mid-volume light backpack, its versatility, durability and comfort make it the best weekend companion you'll ever have.
Unisex ergonomic shoulder straps and hip belts with ample padding for optimal comfort
Three pack sizes: Small, Medium, and Large, which accommodate torso lengths of 11.5″ to 23.5″
Three hip belt sizes which accommodate waist circumferences of 24" to 50"
Features an internal frame which connects to the hip belt for maximum weight transfer
Quick-release side compression buckles to hold your trekking poles or umbrella securely.
"I love this pack. It is light, comfortable, holds everything I need it to and compresses down when I'm headed into town. I've loaded it with climbing gear for an overnight mountaineering trip as well as a 4 day trek on the PCT. I've also used it as a day pack when I needed bulkier layers. The accessible hipbelt and side pockets make my "snackpacking" strategy possible (I eat while walking). The removable frame is also nice for when I am carrying varying loads. The most versatile pack I own." -Heather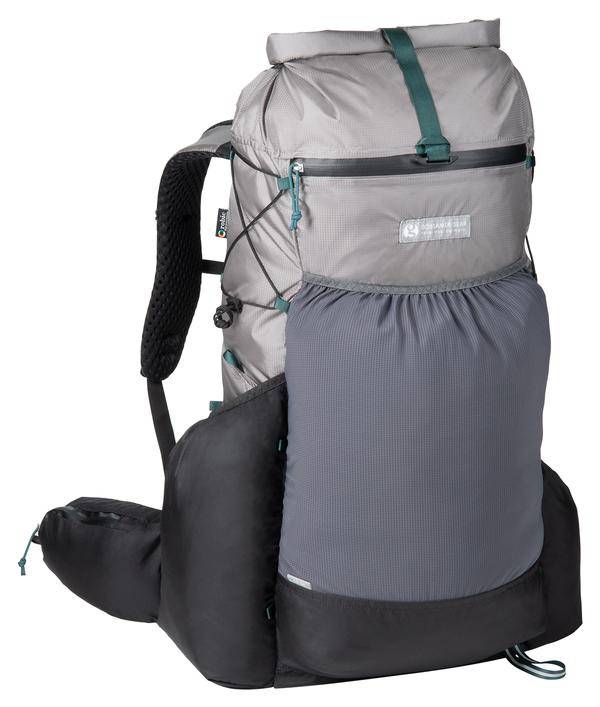 A modern nod to a vintage classic. A tip of the hat to an OG pack. We took what made the original "G4" so popular and roped in a gang of new fabrics and materials to create a minimal do-it-all frameless pack, the G4-20.
Extendable roll-top with dual closure options
Removable molded cushy sitpad
Fixed hip belt with two zip pockets
1.5" hip belt webbing for max comfort
25 oz. for a medium pack
Available in Titanium Grey and Electric Blue
"I've been been backpacking for 35 years. And I I've always leaned toward ultralight gear, but I have never had a frameless pack, so I had some skepticism. I heard about gossamer from a friend of mine who has 5 of there packs. Like me, he can be a bit of a gear addict.
I used the G4-20 on a 4 day, 3 night trip in Kings Canyon, National Park. With 32 lb load at the start and finished around 27 lb, it was a perfect fit and hugged my body. I never felt pack fatigue, pressure points or any discomfort the entire trip. I'm 6 ft, 195 lbs and the large fit me perfectI. It takes a few days of use before you really start to notice and appreciate gossamers design and attention to detail. For instance, the angle of the water bottle pocket is perfect, I could easily reach it while hiking and put the bottle back without missing a stride, while the deeper pocket was perfect for tent poles and the thinlight foam pad from gossamer. If you need to carry a lot of water, it would be great. But for 1 liter, the easy to reach side pocket get the job done just fine. This pack is transformational for me because it changed my thinking about frameless packs. I'm a convert. If you're under 35 lbs total pack weight, I would do it, without hesitation. Great job Gossamer!" -Kerry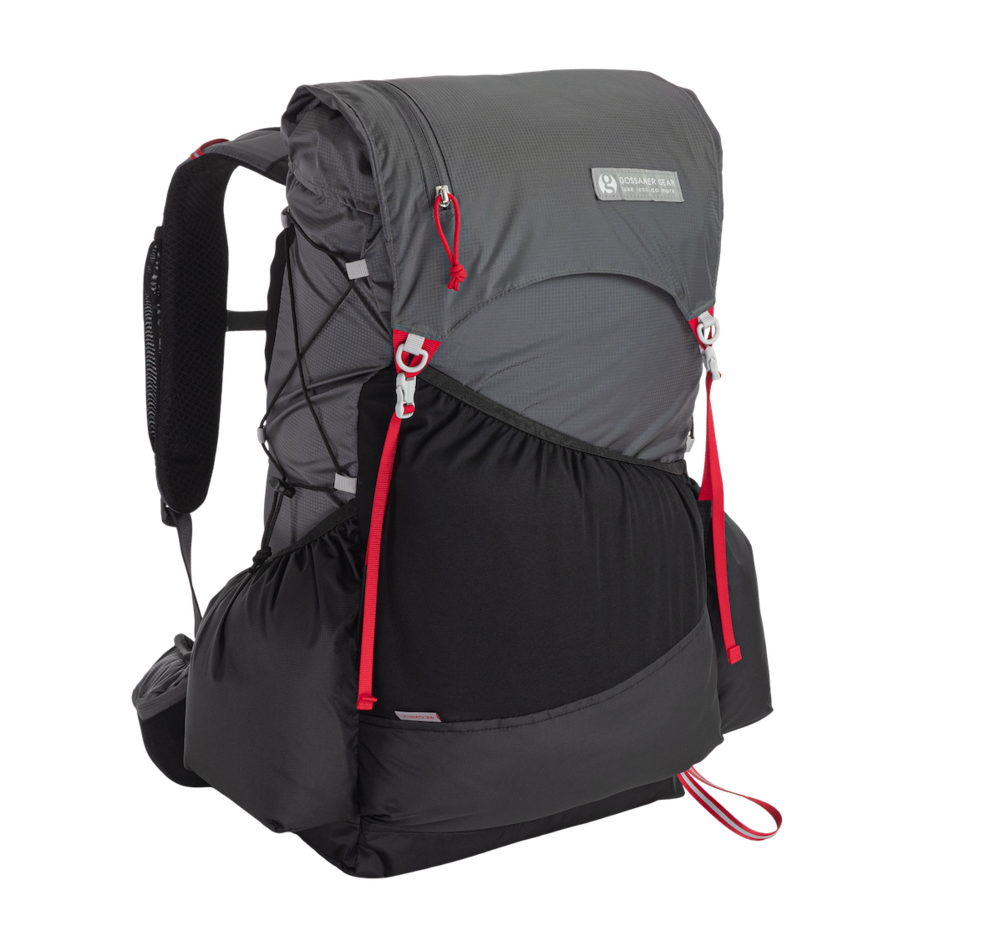 The Kumo 36 Superlight Pack is the perfect pack for day hikes, weekend adventures, and thru-hikers who crush it in the minimalism department. A frameless pack that utilizes our removable fast belt, the Kumo can carry up to 25 lbs exceedingly well. The rear mesh pocket is slanted to provide access without taking the pack off, and features two side water bottle pockets and side compression webbing for a variety of storage options. While the Kumo is a frameless pack, it can be paired with our airflow sitlight pad for a little extra support and increased ventilation when hiking in hot weather. Any hiker who wants more of an experience with less luggage will love the Kumo 36.
Medium weighs 20.5 oz (pack, fast belt, sit pad, and compression cords)
Now available in Small and Medium sizes
Dual stretchy shoulder strap pockets for easy access to your phone or snacks
Ergonomic (Men's and Women's) shoulder strap system matching the award winning Mariposa and Gorilla.
Dual hydration ports and internal tabs for a hydration bladder
Detachable fast belt with pockets and two webbing loop heights to adjust fit
"I'd been carrying a daypack for my shorter hikes from a leading brand and besides being heavy even empty, that pack barely fit the 10 essentials in it, much less the extra gear I need for my winter hiking needs, etc. I was amazed by the Gossamer Gear Kumo 36 from the moment I took it out of the box. It felt like tissue paper weight in my hands! I stuffed it for a Winter day hike in the Cascades the next weekend (along with a GG pack liner I'd bought) and it was the BEST THING EVER! I barely felt any weight at all from my pack hiking, still had plenty of room even with all my winter gear in it, and it was soooooo comfy on my back, shoulders, etc. I can't recommend this pack enough! Thank you for making my hiking experience SO much better, Gossamer Gear!" - Claudia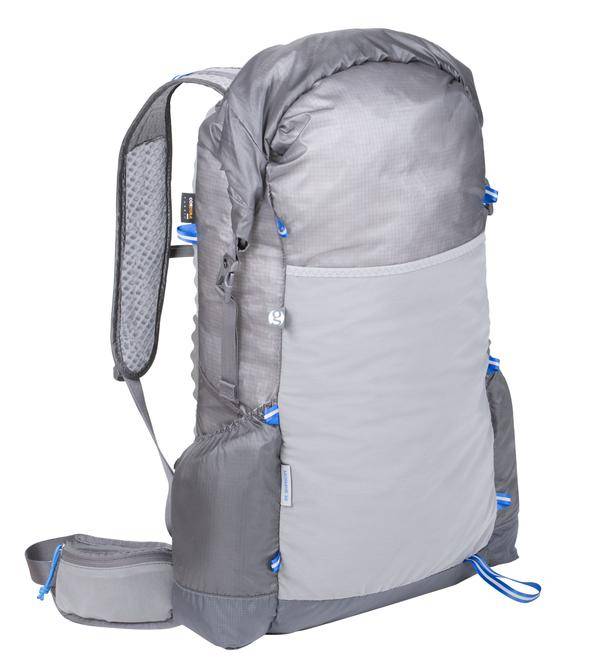 The Murmur Hyperlight Pack was designed by founder and "guru of lightness" Glen Van Peski for those carrying a base weight of 5 pounds or less. The Murmur weighs 12.5 ounces with the included removable fast belt and sitlight pad. It weighs a mere 7.9 ounces once you remove the sitlight pad and fast belt.
The Murmur does not lack prominent Gossamer Gear features including side water bottle pockets, a large mesh pocket for wet clothing, and trekking pole holders. The main compartment can close two ways: roll top for a more streamlined shape or you can clip the buckle together in a 'dry bag' style to use the extension collar.
This pack is intended for experienced ultralight backpackers. To keep this pack as light as possible, 30D Robic nylon is used for the main body and 70D Robic nylon for the bottom and select areas for some added durability. This pack should be used only on developed trails to avoid ripping the fabric on brushy trail. If you can weigh in your gear at around 15 pounds including food and water, this is your pack. If you're not sure if it's the right pack for you, it probably isn't.
Weighs a mere 12.5 oz with the fast belt and sitlight pad included.
Frameless design with a removable/adjustable sternum strap.
Stretchy back panels hold included sit pad, or a thin sleeping pad, saving inside pack space, and allowing pad to be pulled out during rest breaks.
Unisex (Men's and Women's) shoulder straps and waist belt constructed with low profile, but super comfortable, highly breathable wall mesh.
One size: fits torso lengths of 16″-24″. Generally fits people 5'4"-6'4"
"I have some frameless ultralight backpacks that are made of Cuben fiber, but despite being technically strong, they feel very vulnerable. The Murmur is super light, but doesn't feel at all flimsy. It looks good and seems to be incredibly tough. My dog took a liking to it at one point and even her big clumsy paws and claws didn't damage it." -Brian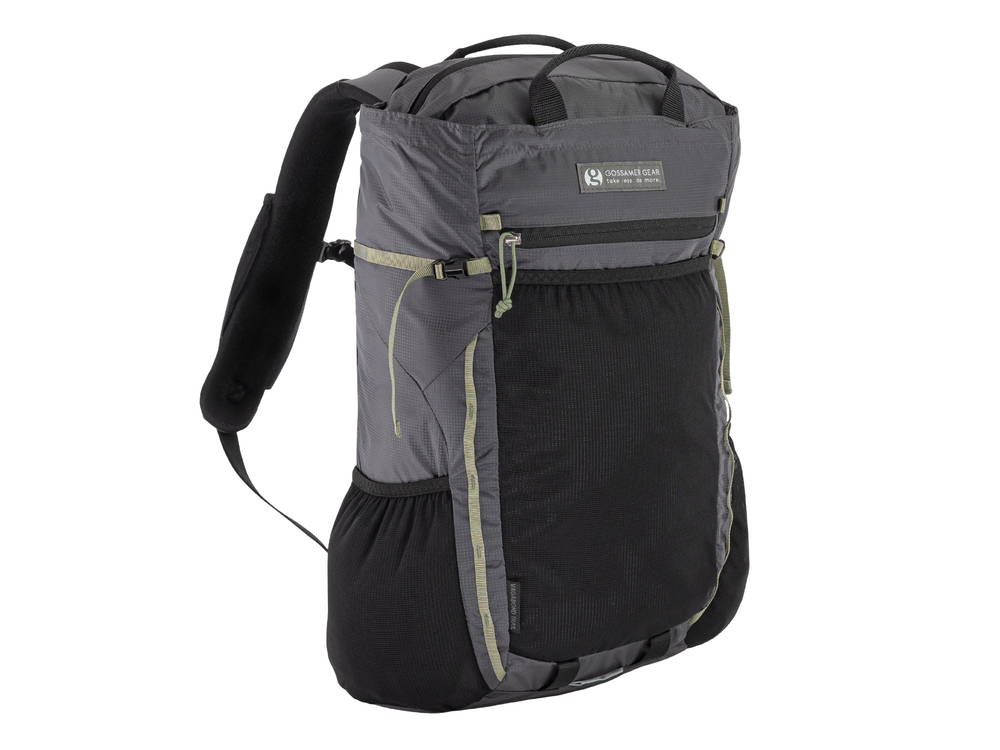 This is the pack you keep by the front door and use for everything because you totally love it. Day hikes. Farmer's market. Work. Travel. The Vagabond Trail hacks it on the mountain, coddles your kale in town, and fits conveniently under the seat in front of you. The Aramid & Robic fabrics are way strong and super light, dual haul handles make grab-and-go fast, the easy-loading top zips up tight, shoulder straps are ergo, and there are tons of smart pockets to organize work gear and backcountry essentials.
Secure zippered top closure
Dual tote handles
DWR coating
Ergonomic straps and back panel
Micro daisy chain lash points
Custom 100D Robic nylon fabric
Large front stretch mesh pocket
Inner secure stash pocket, outer zippered pocket with key and pen holder
Hydration sleeve that doubles as a laptop sleeve as it is raised off the bottom of the pack
Shoulder strap pockets & water bottle pockets
17.5 oz
"My husband has been using this pack for almost a year and loves it. It's the perfect size for a day of commuting, hiking, biking, etc., and very lightweight. He loves it so much that he tossed his larger Patagonia and recently purchased a Vagabond for a family member as a gift." -Jennifer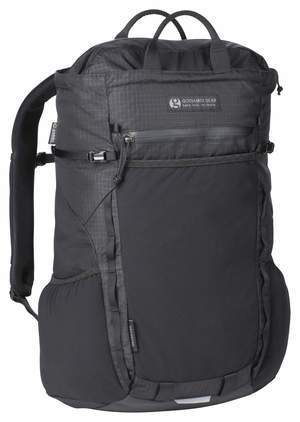 Your favorite Vagabond beefed up with an integrated laptop and tablet carry sleeve, the Vagabond Jet is designed for long commutes, tech carry, NY fashion week, and traveling the world.
Nylon with Spectra ripstop fabric
Integrated padded tech carry system for laptop, tablets, and hard drives
Mesh shoulder strap pockets & water bottle pockets
Top carry grab handles
Exterior and interior accessory pockets
Extra padding on shoulder straps for comfort
Waterproof zippers with a DWR coating (highly water resistant)
Compatible with our fast belts!
22.8 oz
"I travel a lot for work and I always work some explorations in nearby. This pack makes it possible for me to travel light and have a pack that can go as my personal item, house my laptop, and transition to whatever hike or trail run I do while in the area. Love it!" - Heather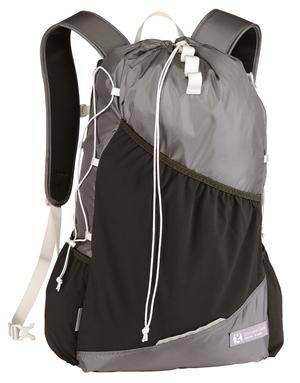 Constructed entirely of our custom fabrics, our Minimalist is tough but definitely not tender. Stuff all the layers, food and water you need and take this pack on a long day's journey into whatever mother nature brings. Also fits a laptop, should you ever choose to return to civilization.
Fits tablets and most laptops and has 4 built in pockets for plenty of storage options
Two side mesh bottle pockets accessible without taking off pack
Slant top mesh big back pocket for easy access
Internal zippered stash pocket and hydration loop
Unisex (Men's and Women's) ergonomic harness
1/2" "D" rings and web loops to hang your stuff from
Rib strap for a secure fit to your body
Vertically adjustable sternum strap system
Air-mesh fabric on shoulder straps for less friction, more cushion and more comfort
Grosgrain drinking tube keeper loop are on shoulder straps
11.6 oz
"I've used this pack virtually every day for almost 1 1/2 years. When working fits a full size 15" laptop, full size headphones and big horse shoe bike lock with some layers etc. On long bike rides and day hikes, hydration bladder, layers, food, and "stuff". It still carries beautifully and the design just works. But I wanted to remark on its durability. With, what I consider pretty heavy use, there's been no failures, it looks new and even the stretchy pocket hasn't sagged much or snagged. I did break the bottom of a one of the elastic cords, easy fix. The stitching is still perfect. I think I've gotten great value from it and if this one goes, I wouldn't hesitate to get another, its a great day pack!" -Barry